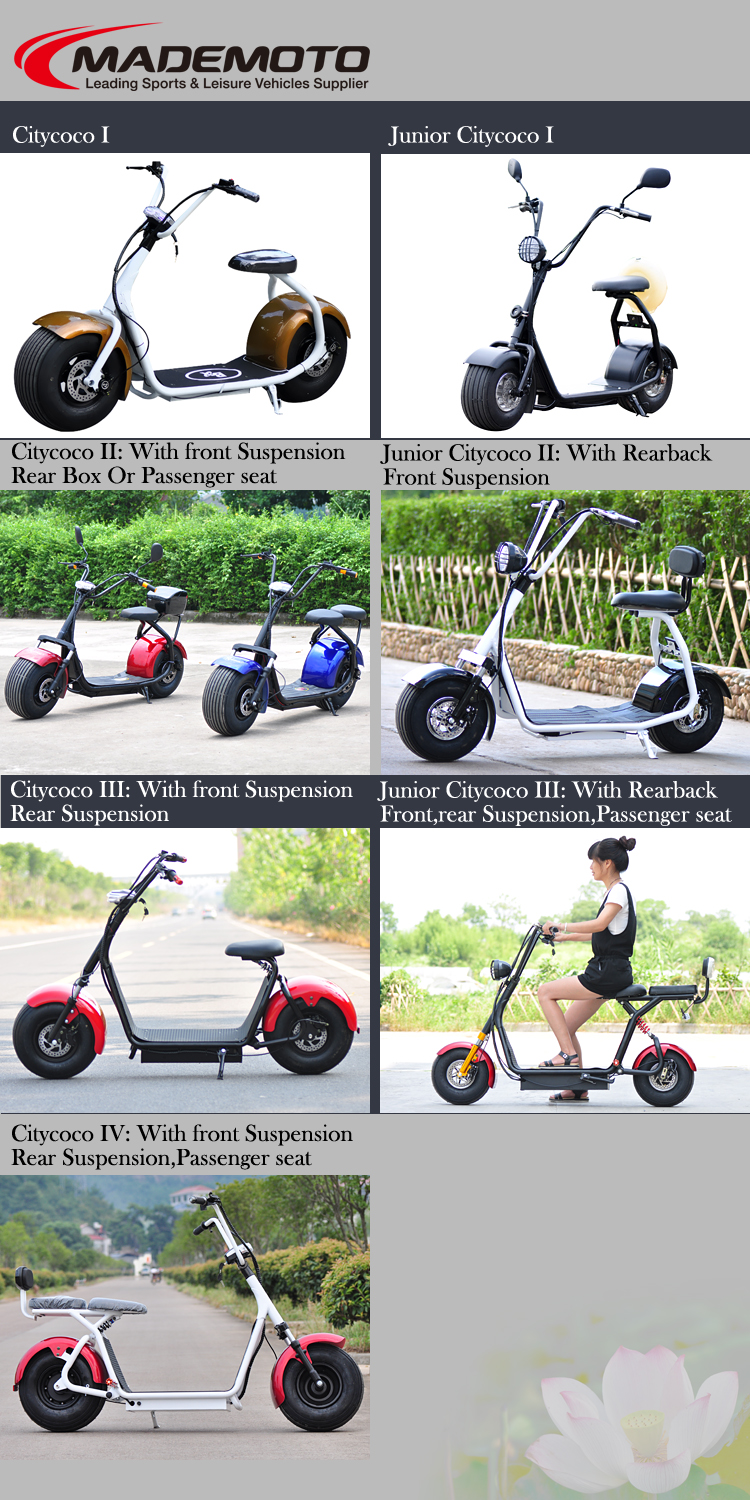 &nbsp
39 celsus degree outdoor tempreture, 3 hours and 20 minutes continuos running. We have performed 12Ah 60V lithium battery and 16Ah 48V lithium battery 500W brushless motor junior citycoco range testing. Please check video now for testing result.
&nbsp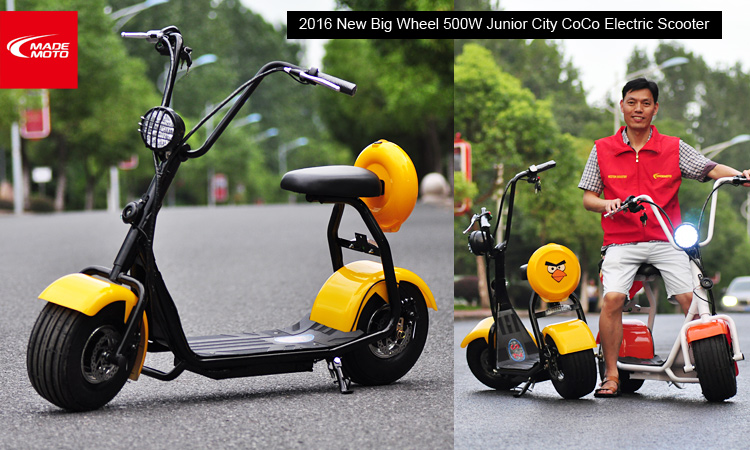 Special Features:
Product size: 1430x370x700mm
Motor power: 500W hub brushless motor
Battery capacity: 10Ah, 48V lithium battery
Load Capacity: &gt120kgs/396Ibs
Charging time: 1-2 hours
Max speed: 35-45km/h(based on request)
Range per charge: Approx 40km
Brake: Front and Rear Disc Brake
Tire size: 6inch tubeless tire
Wheelbase: 1080mm
Seat height:&nbsp 630mm
Climbing Capacity: &gt18 degree
We call this model is Junior-city-coco is because this is a smaller size, design for office people, they can drive it to anywhere, like in to elevator.
&nbsp
Dave (Who send you this Email, and who test this scooter everyday) want to say:
&nbsp
When I test&nbspCitycoco everyday, I found I like it so much, because it is very secure when driving on the road for the two super wide two wheels. Speed can be 40KM/H which I test on road, I think it is really enough for speed feeling.
My house and my office distance is about 20km. Every working day, after I arrived my office, I dont need to be recharge the scooter, the power is enough for I go back to my house.
I live in 9th floor, I can drive it into elevator, this is very important for me. I need recharge at my house. Because of the fashion outlook with this scooter, so many people look at me when I driving on the road. Many times, I need to answer where they can buy this scooter, and how much they can buy it.
2016 New Big Wheel 500W Junior Citycoco Electric Scooter ES5018, more details about this model: http://www.scooter-for-sale.com/Junior-city-coco-electric-scooter.htm
We also have bigger model of the Citycoco, model number is ES8004, More details about ES8004,please check at this web link: http://www.scooter-for-sale.com/City-CoCo-Electric-Scooter.htm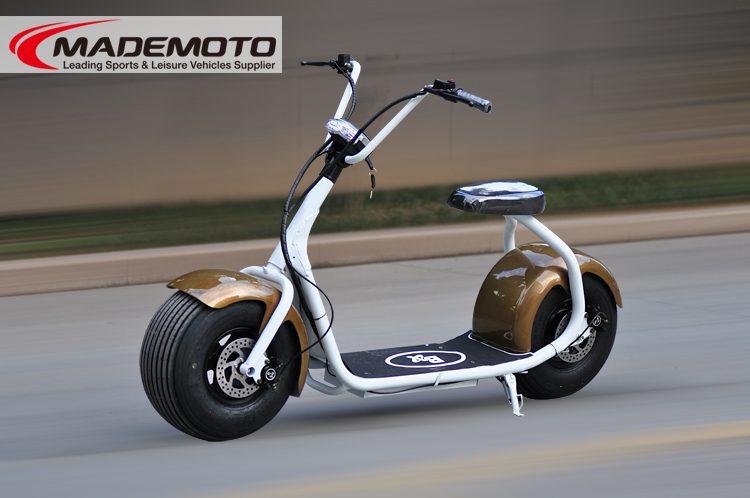 &nbsp
2016 New Junior Size Citycoco Electric Harley Scooter ES5018

Junior Size on Electric Harley Scooter City Coco. 500W brushless electric motor, 48V battery. One time charge range is 60km on 15Ah lithium battery.
Contact sales@mademoto.com for more details.
Video Link: https://youtu.be/px7Dzz9NkxU
&nbsp
&nbsp
Wiztem Industry Company Limited is the manfacturer of the citycoco and Junior Citycoco in China, our&nbspfactory is located in Yongkang City, Zhejiang province.
&nbsp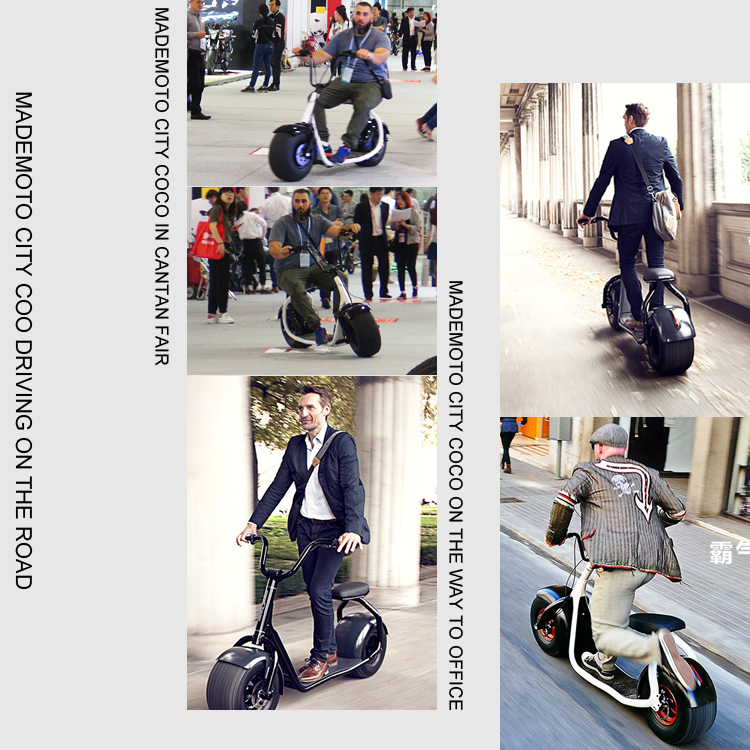 2016-8-19 update news for our Citycoco:
We have two new Citycoco coming out with 60V 12Ah lead acid battery
Front and rear Shock suspension
Passenger Seat
Backrest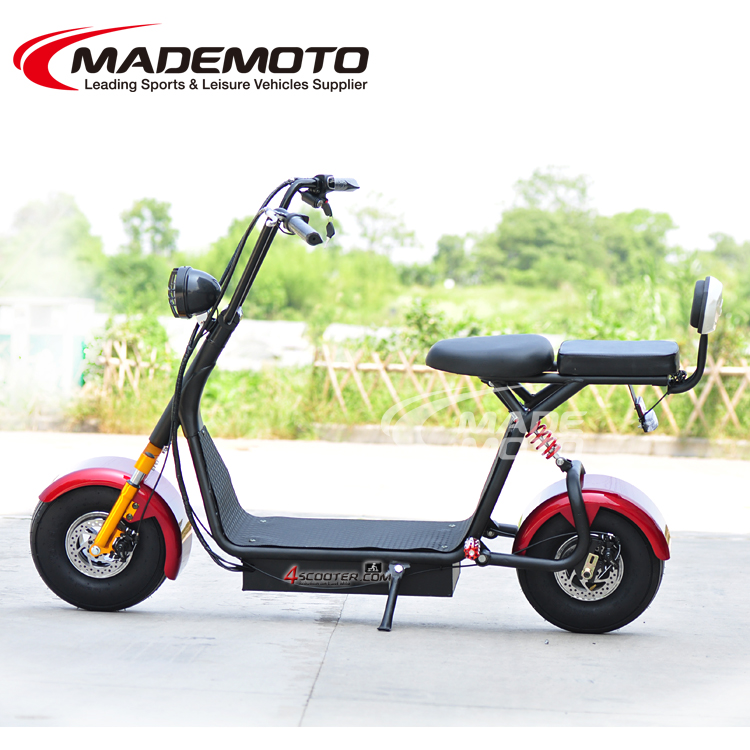 Special Features:
* 2016 New Model
* One-piece Solid Frame Design
* 500W Brushless Motor
* Speed optional on 30km/h and 45km/h
* 18 Degress Climbing Capacity
* Front &amp Rear Disc Brakes
* Available on Various Colors
* With passenger seat
* Front and Rear Shock Suspension
2016 New Big Wheel 500W Junior&nbspCity CoCo Electric Scooter
Key Specifications:
Product size: 1430x370x700mm
Motor power: 500W hub brushless motor
Battery capacity: 12Ah, 60V Lead Acid
Load Capacity: &gt120kgs/396Ibs
Charging time: 1-2&nbsphours
Max speed: 40-45km/h
Range per charge: Approx 60-65km
Brake: Front and Rear Disc Brake
Tire&nbspsize: 6inch tubeless tire
Wheelbase: 1080mm
Seat height: &nbsp630mm
Climbing Capacity:&nbsp&gt18&nbspdegree
Color available:Blue, Red, Pink, Yellow, Green Black etc
Package: Carton Packing
Net weight: 43kg/72.60Ibs
Gross weight: 48kgs/83.60Ibs
Out carton size: 143 x 28 x 75cm/1pc
Container:
92pcs/20, 192pcs/40,226cs/40HQ
More details visit weblink: http://www.4scooter.com/mini-citycoco.htm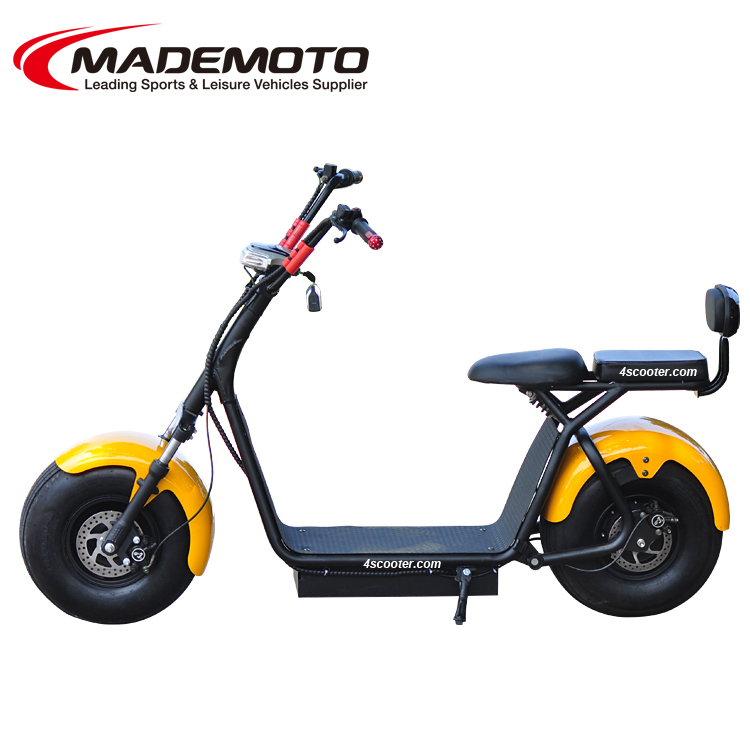 Special Features:
* 2016 Hot Selling
* One-piece Solid Frame Design
* 1000W Brushless Motor
* More Steady &amp Comfortable Riding
* 18 Degress Climbing Capacity
* Front &amp Rear Disc Brakes
* Wheelbase up to 1256mm
* Available on Various Colors
* Front and Rear Shock absorber: Include
* One passenger seat: Include
* Backrest: Include
&nbsp
2016 New Big Wheel 1000W City CoCo Electric Scooter
Key Specifications:
Product size: 1756x750x700mm
Motor power: 1000W hub brushless motor
Battery capacity: 12Ah, 60V&nbspLead-Acid&nbspbattery
Load Capacity: &gt180kgs/396Ibs
Charging time: 1-2&nbsphours
Max speed: 40-45km/h
Range per charge: 45km
Brake: Front and Rear Disc Brake
Tire&nbspsize: 18*9.50-8 tubeless tire
Wheelbase: 1256mm
Seat height: 700mm
Climbing Capacity:&nbsp&gt18&nbspdegree
Color available:Blue, Red, Pink, Yellow, Green Black etc
Package: Carton Packing
Net weight: 61kgs
Gross weight: 70kgs
Out carton size: 175 x 40 x 80cm/1pc
Container:
41pcs/20, 87pcs/40,108pcs/40HQ
More details visit weblink: http://www.4scooter.com/1000W-Citycoco.htm
&nbsp